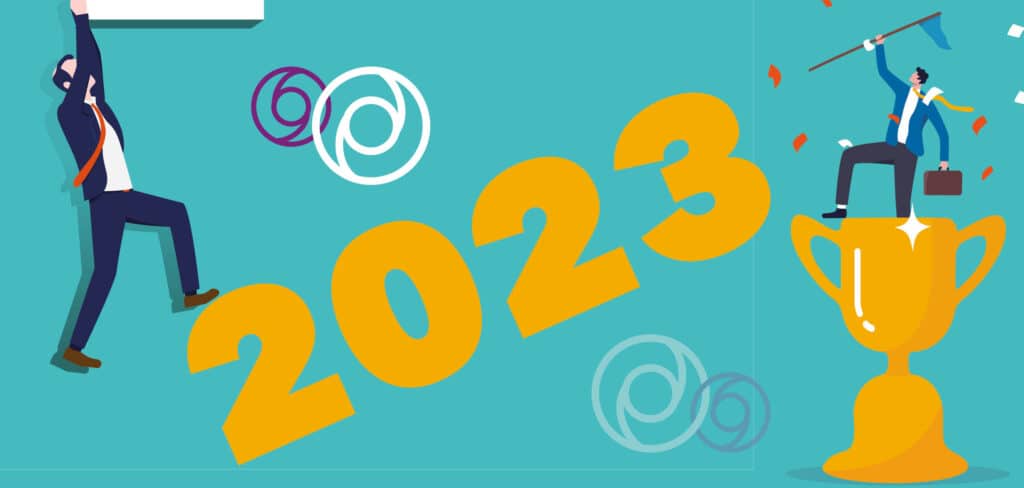 Times may be challenging but you can still position your business to thrive by following our six-step approach to growth. We know it works; we've done it!
Doom and gloom seem to be the main focus of the media these days, which can make it hard to remain positive. A New Year, however, is the perfect time for putting the past behind us and begin to focus on a plan to improve the future.
Yes, the cost of living is through the roof and okay, good opportunities seem harder to come by but in every set of circumstances there are winners and losers, and print, despite the negativity surrounding our industry, is no exception.
The reality is, that if you continue to do the same this year as last, the likelihood is you'll get similar results and if they weren't what you wanted, it's time to change, or you're in for a bumpy ride.
Change, however, is challenging. We know. Because as a result of the pandemic, we've been through some major changes ourselves. Thankfully, as a result, we've put ourselves in a much stronger position to face the future. Here we share with you the six core strategies we've employed.
1. Focus on a specific market
Identify which sectors of your client database deliver the results you want and focus the vast majority of your efforts on finding more clients in that sector. This makes any advertising you do more targeted and therefore, more cost-effective.
2. Specialise as opposed to diversify
It's easier to become known as an 'expert' if you focus on a key range of products. Being a Jack-of-all-trades might appeal to a few of your clients but is very difficult to scale up.
3. Focus on added-value
Make sure any products you focus on deliver sufficient added-value to generate a profit. Some big printers have gone bankrupt with full order books of work generating no added-value.
4. Make your website work for you
Does your website actually generate revenue? If not, why not? Web-2-print is still a growth market and one that offers many advantages over conventional sales channels.
5. Adopt lean manufacturing techniques
Lean manufacturing is about reducing waste. Most people think of waste in material terms only, but waste comes in many forms; especially in manufacturing. These also include: overproduction, waiting, inventory, defects, transport and motion.
6. Automate whatever you can
Automation goes hand in hand with lean manufacturing as everything you automate reduces the need to charge excessively for something people really aren't happy paying for. Automation also speeds up your operation therefore reducing waiting times.
Of course, nothing happens instantaneously but the trick is to start the ball rolling and hopefully, soon, you'll find yourselves on a new, considerably more exciting and rewarding path.

It's all happening online.

Our web sales may be growing fast, but that doesn't mean we'll take our eye off the ball. We're always looking at ways we can add more products, more value and an overall better experience for our clients. Here are a few things we've been up to at www.flexpress.co.uk recently.

New, LOWER online prices.
It may be hard to believe, but not everything is going up in price. In fact, at Flexpress, we're actively playing our own small part in bringing down inflation by actually lowering hundreds of our prices.

Of course, we're not doing this recklessly. Like all businesses, we can't work for nothing, but the advantage of having useful data that we can analyse has enabled us to crunch a few numbers and ensure any new pricing we introduce is sustainable.

Whilst we'll never focus on price ahead of quality or service (we still don't gang or batch anything), we're big believers in value, and the work we've done in terms of workflow and automation is now paying dividends that we can begin to share with our clients.

Flexpress have been extremely competitive on many products for a while; especially saddle-stitched booklets, business cards and presentation folders, and particularly those within our 'sweet' quantity range. But now, the range is extended further and you'll find us cheaper than most of our online competitors for a whole host of soft-back PUR perfect bound books and hard-cover case-bound books too.

New products added
As specialists in books, booklets and manuals, we're always keen to add products which can enhance or complement our range.

New for 2023, products we've added include:

bespoke tabbed index dividers (with easily downloadable templates)
collated inserts (sets of pages to insert into ring binders or folders, which can be loose, or drilled).
Half Canadian wire-o bound books (wire-o binding with a printable spine)
Appointment Cards (Matt laminated one side only)
New website features
We've enhanced our client login area to make navigation much easier. Main facilities (such as your delivery address book) are now accessible throughout the ordering process by selecting from a handy left-side menu.
We've added an 'advanced options' feature which we'll be introducing in the early part of 2023. We wanted to be able to add additional options to products (such as shrink-wrapping) without making the core selections too onerous or complicated. By activating the advanced options menu you'll get access to these additional services.
At Flexpress, we're always looking for ways to improve the user experience of our website. 
If there are any features that you feel would be especially useful, or anything you feel is unnecessarily complicated, please be sure to let us know.