Online Greeting Card Printing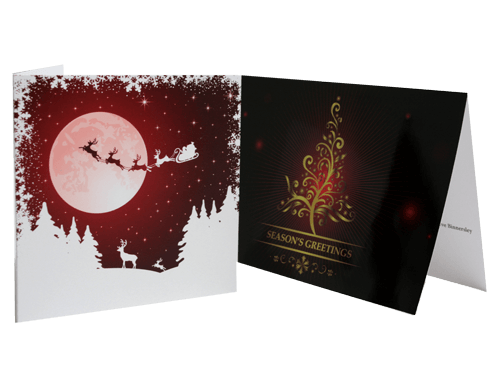 Printing Christmas Cards and Greetings cards
FSC, Carbon-captured material
Highest quality full-colour printing
Optional envelopes
FREE downloadable template
FREE 10 point file-check
FREE Next day dispatch
FREE Time-slot delivery
Click the 'More Details' tab for further information.
No feedback is currently available
Printing Christmas Cards and Greetings cards
FSC, Carbon-captured material
Highest quality full-colour printing
Optional envelopes
FREE downloadable template
FREE 10 point file-check
FREE Next day dispatch
FREE Time-slot delivery
Click the 'More Details' tab for further information.
Product Options
Formats
Material
Printing
Lamination
Finishing
Proof
The time stated for dispatch is for 'approved' artwork. Requesting a proof is likely to affect this deadline if the artwork isn't approved within the time stated.
Dispatch Time
The countdown timer displays the actual date this specification could be dispatched. Change this option if you need it faster or cheaper.
Quantity
Minimum order: 20
A beautifully printed Greetings Card is worth a hundred e-cards so bring a bit of seasonal cheer this year to someone you know. All our greetings cards are printed using the highest quality printing available onto a range of environmentally friendly, carbon-captured materials that are all approved by the FSC.
Why Flexpress for greetings cards?
FREE 10 point file check
FREE Next Day Dispatch
FREE Time-slot delivery
FREE Template
Your choice of creased and flat packed, or creased and folded
Trimmed using highly accurate programmatic guillotines
Environmentally friendly boards
100% Satisfaction Guaranteed
Greetings Cards - Artwork Help
Please choose a template below for your project. Can't find the size/style you're looking for? Contact us about custom designs and quotes.
The download link is for a PDF template for a single page - we recommend you lock these on a layer behind your design so you can ensure all artwork is accurate and in the correct position. For artwork best practice, take a look at our Artwork and File Information page.