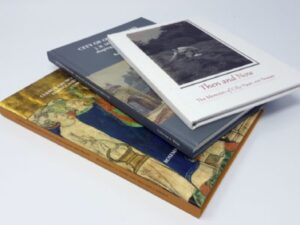 Often, simply by adding a hardcover, the perceived quality of a book increases and as a result, so too does the value.
Because of this, 'case-binding' as it's known in the trade is growing in popularity and Flexpress is keeping up with demand.
Book and booklet printing is at the core of what we do here at Flexpress and since we added hard-back books to our portfolio, the demand for them has grown quickly.
However, the process to make them, particularly in short run-lengths (which is where we specialise), is quite time-consuming and without the labour to throw at it, we soon began to realise we needed to try to find ways to speed up the process.
The problem is that the equipment for producing the hardback covers leaps from machines capable of relatively few per hour, to the extremes of thousands per hour with little in between!
At Flexpress, the typical run lengths of hardback books that we try to cater for might lie anywhere between one-offs to quantities of up to around 500. And with our existing equipment, the 500 end of the range was proving to be a bit of a bind (oh dear).
After researching the market, we eventually discovered a suitable machine: the IML. This machine runs approximately twice as fast as our current machine, making it much more ideal for the longer runs we produce.
The counter side is that with a longer setup time, it's not so ideal for shorter run lengths!
The solution was simple: keep both machines!
And that's precisely what we've done. We're now perfectly equipped for producing all your demand for hardback books in quantities anywhere from one to five hundred or beyond.
For more information, email sales@flexpress.co.uk or call 0116 267 6269.