Aluminium Faced Composite Boards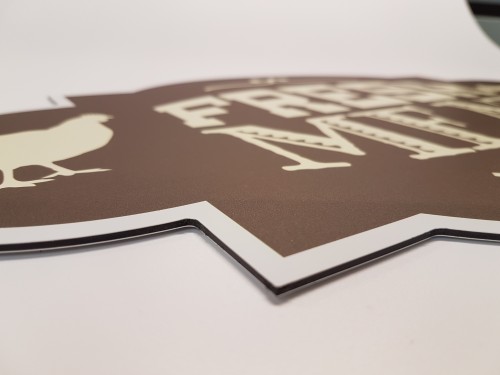 A very strong board which withstands heavy impact.
Just 2mm thick but very strong
White printable finish
Up to 1.2m(h) x 1.2m(w) available online
Fully weatherproof
Ideal for signage or hoardings
Good impact resistance
Fully Recyclable
See 'more details' for further information
Submit and approve your artwork in:
21/06/2019
Or collect this date after 4pm
Excludes Bank Holidays and the Christmas Break
Choose Printing Options
4.
Profiling
Using our CNC Plotter/Router, we can cut your graphic(s) to custom sizes and if required, custom shapes.
5.
Proof
The time stated for dispatch is for 'approved' artwork. Requesting a proof is likely to affect this deadline if the artwork isn't approved within the time stated.
6.
Dispatch Time
The countdown timer displays the actual date this specification could be dispatched. Change this option if you need it faster or cheaper.
Dilite aluminium faced composite board is an innovation based on Dibond. Despite being just 2mm thick, two layers of 0.2mm thick white faced aluminium sandwich a polyethylene core, making it very strong, fully weatherproof and capable of withstanding impact. It's common uses include:
Sports ground hoardings
Builders advertising screens
Billboards
simple flat signage
Unlike many who print onto reel-fed material and glue mount onto the sheet, Flexpress offer high quality full colour printing, directly to the surface of the sheet eliminating the possibility of water getting between the layers and the product de-laminating. The print is totally waterproof and will not fade - even in the brightest of sunlight.
Furthermore using computer controlled cutting equipment, we can cut Dilite to pretty much any shape required.
Why choose Flexpress for printed Dilite?
FREE 10 point file-check to detect potential print issues
Rapid dispatch as standard
Excellent quality fully weatherproof full colour printing
Direct to substrate printing so will never peel off.
Optional cutting to shape
UK Based Company keeping British people in jobs
Everything printed and finished in-house ensuring total quality control
There is a limit to what we can price online. Please contact us if you have any special requirements.
Please note: Due to static inherent in this printing process, heavy coverage solids on this material may result in occasional unavoidable banding.