400gsm Spot UV Business Cards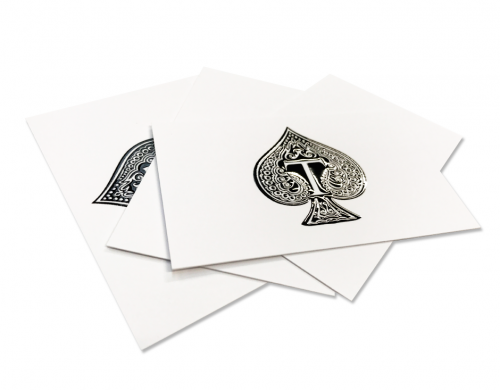 Gloss embellished (Spot UV) business cards add a touch of real class.
Highest quality full colour printing
Substantial 400gsm Silk Board
Matt, Gloss or Velvet Lamination
High gloss spot UV one or both sides
Packed in handy strong plastic boxes
Discounts for multiple names
Dispatched next working day
100% satisfaction guarantee
See the 'More Details' Tab for further information
Choose Printing Options
The time stated for dispatch is for 'approved' artwork. Requesting a proof is likely to affect this deadline if the artwork isn't approved within the time stated.
Spot UV:
Flexpress were the first in the UK to install the Duplo Dusense - a digital spot UV gloss embellishment system that adds a super-glossy polymer highlight to selected areas of your card. This is ideal for highlighting pictures or logos, or simply for adding a dramatic finish that instantly demands attention. The spot UV is laid on top of your choice of laminate for even greater contrast.
Material:
Flexpress use a substantial 400gsm premium, environmentally friendly, triple coated silk board which offers excellent properties for colour reproduction and holds fine detail well.
Laminate:
Laminating adds a thin protective layer of plastic to the surface of the card giving it a delightful texture whilst adding durability. Choose from a deliciously silky smooth matt laminate or the velvety peach-like texture of luxurious soft-touch laminate.
Rapid dispatch:
As standard we offer next day dispatch on all orders though if you don't need them this quickly, you can choose to downgrade to a three day service and save a little money.
High Definition Printing:
Every job at Flexpress is printed using the finest technology available. You wont receive any products printed on beefed-up photocopiers from us - another reason we back everything with our total satisfaction guarantee.
Precision Finishing:
Business cards are cut using our Duplo DC646 automated cutting machine - accurate to just 0.2mm. This ensures that even cards with tight borders are cut accurately. They're packed in handy, durable, unbranded plastic boxes that hold between 100 and 125 cards.
UK company with a reliable track record:
Flexpress started life back in 1989 and are UK based keeping British people in jobs. Everything we offer is printed and finished in-house by us as our 8000 square foot premises in Leicestershire. we're proud of our facilities and unlike many of our competitors, welcome visitors at any time.
Your satisfaction guaranteed
We take quality and customer service very seriously. Our right-first-time approach coupled with cutting edge technology and professional team mean we're confident enough to offer a total satisfaction guarantee. If through any fault of ours, there's an issue with your printing, we'll arrive at a solution to leave you 100% happy.
Business Cards - Artwork Help
Please choose a template below for your project. Can't find the size/style you're looking for? Contact us about custom designs and quotes.
The download link is for a PDF template - we recommend you lock these on a layer behind your design so you can ensure all artwork is accurate and in the correct position. For artwork best practice, take a look at our Artwork and File Information page.
SPOT UV Gloss Layer: Please supply the SPOT UV file along with the business card artwork as a seperate page in the PDF. The Spot UV file needs to be in grey scale, and in the correct position on the business card.