Print Your Own Book | Book Printing for Self-Publishers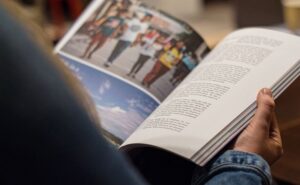 If you are looking to self publish a book, we offer an exceptional on-demand book printing service.  
To get an instant quote, visit Perfect Bound Books for Self Published Authors. Alternatively, you can get a custom quote. We can offer small runs of 1 to 1000 perfect bound books, with various finishes and plenty of options on the paper stock. If you want to print your own book and have an extra-special finish for your self-published masterpiece such as an embossed front cover, or perhaps a foil finish, we specialise in cost-effective options that will absolutely set your book apart from rest.
Our book printing service for those who wish to self-publish is exceptional in both quality and service. We have state-of-the-art technology that is perfect for short run, cost-effective printing – we are the perfect fit for you and your book. 
We have a very helpful tool for you to prepare your project for print – that's our Book Spine Calculator.
I wanted to give you a big thank you for delivering the Twist frame so quickly. From the time I sent the first email to the afternoon you set it up took less than 5 working days. Amazing turnaround and outstanding service as always. I've received excellent feedback from our Product Manager and MD, it looks great.
Maryline Kennedy,
17th November 2016


Just wanted to say many thanks again for the continued good service this year.
Jeremy Naylor,
1st December 2016


You did an excellent job for us in July, our customer was delighted, and he's not an easy one to please.
John Burns,
1st September 2020


Quick note to acknowledge receipt of the booklets yesterday, and to say that I'm absolutely delighted with the result - once again, a superb service from Flexpress! I've forwarded your invoice to our finance department with a request that they cough up as soon as possible (they are usually fairly good).
Ian Miller,
February 2021


I just wanted to contact you and say thanks for the great customer service and assistance you gave me. We had never used you before and due to the service and the folders we received, we will be contacting you again in the future.
Jamie Owen,
April 2019


Shh. Only registered users get to find out about our special website features and secret deals
Register now