Magazine Printing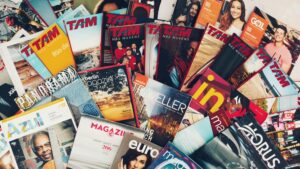 A magazine gives you an amazing opportunity to share your passions with a wider audience, with as much colour and vibrancy as you wish! Create and print a magazine with undeniable quality and add those extra-special finishing touches to set it apart.
And when you're ready to put it all together, you'll find a wide selection of binding options, including saddle stitched or stapled, PUR perfect bound or wiro bound. Click on any of those options for an instant quote. For a more tailored magazine printing service quote, visit our custom quote page. 
We offer short-run magazine printing.  From 1 to 5000 saddle stitched magazines or 1 to 1000 PUR perfect bound magazines in one run, we can get your magazine printed from one of a large range of paper stocks and with some great, cost-effective finishes to choose from – that you will not find in many places in the UK – to make sure your magazine publication stands out from the crowd.
Can I thank you all at Flexpress for your fantastic service and printed materials this year for (my company), for Leicester Art Week and for my friend, Jane. I know Jane has found your support invaluable (and has probably saved her sanity!)
Lucy Phillips,
2nd December 2016


I wanted to give you a big thank you for delivering the Twist frame so quickly. From the time I sent the first email to the afternoon you set it up took less than 5 working days. Amazing turnaround and outstanding service as always. I've received excellent feedback from our Product Manager and MD, it looks great.
Maryline Kennedy,
17th November 2016


Thanks for delivering the Publications Catalogue so promptly – they look great too.
Carol Mackerness,
April 2019


Once again Flexpress have come up trumps.
Thank you for doing the books for us, absolutely perfect, in time, on budget - what more could I ask.
Definitely be doing business again.
Alan Fossey,
29th January 2019


Just wanted to thank you for turning around the co-op leaflets so quickly especially given the unsatisfactory artwork that I first forwarded. This is greatly appreciated.
Gavin George,
16th November 2016


Shh. Only registered users get to find out about our special website features and secret deals
Register now